what up derp and derpina :)
amacam taiko ? lu ada baek ka ?
haha , ini hali abg besar sudah turun
muehehe , patut nyer arini aku kne pergi drama sekolah
tapi aku x prgi sbb , gila kau !
dari kol 9 smpai kol 2.30 mcm tuh
mmg x lah kan , huhu
aku memegang sebagai watak Amir
amir adalah seorang budak nakal , yang mengajar Maria
jadi budak jahat , and last amir masuk pusat serenti
kesimpulan nye , aku jadi watak penagih dadah
WHAT THE , APE TU , FUCK !
xpe lah , aku x kesah pun amik watak apo
korang minat main game ?
skrg hidup aku hanye lah dipenuhi main game je
sbb tuh je lah satu2 nyer teman sehidup semati aku
aku skrg ni tgh main game digimon , Tale of destiny 2 , and Chrono cross :)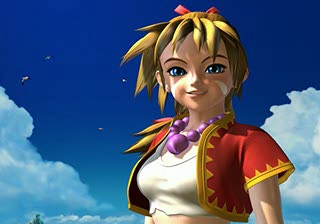 ni Name die Kid , watak heroin dalm chrono cross
die comel kan ? kan ? aku main game ni pun sbb nk tgk muke die jelah
ya Allah hai , asl lah muke die ni comel beno ? haish ==
What was the start of all this?
When did the cogs of fate begin to turn?
Perhaps it is impossible to grasp that answer now,
From deep within the flow of time.
But for a certanty, back then
We loved so many yet hated so much
We hurt others and were hurt ourselves.
Yet even then we ran like the wind
Whilst our laughter echoed
Under cerulean skies....
tuh lah ayat aku paling suke dlm chrono cross , sastera gitu :3
korang tau x ni band ape ? ni name die MUSE
haha , diorg ni smart doe , aku suke lagu2 diorg
lagi kalau korang tgk diorg buat concert live , mmg tegak bulu roma dgr
sbb best sgt sgt sgt !
tgk arh , x rugi beb , mesti korang aku berjoget punyer lah
tuh antara performence diorg paling baik punyer ,
kadang2 aku tgk kt stat blog aku kan
something fishy going on lah ,
somebody is stalking me =,=
nevermind , bye .